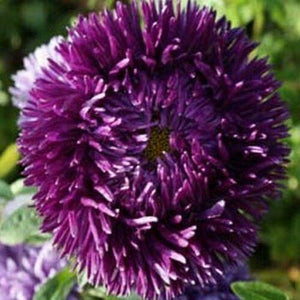 50 Dark Violet Aster (Callistephus Tall Double Gremlin) Seeds
This dark violet one is especially gorgeous, and it's great for cutting too and has a long vase-life. Tiger Paw Asters have an upright growth habit and reach nearly 30 inches in height. They are easy to grow from flower seed and so very rewarding as well.
Start the Aster seeds indoors before the end of the frost season. Transplant them outside in a prepared area after temperatures are consistently warm. Aster plants prefer well-drain soil and a position in full sun to partial shade.
Flower Specifications

Season: Annual
USDA Zones: 3 - 9
Height: 30 inches
Bloom Season: Midsummer to fall
Bloom Color: Dark violet
Environment: Full sun to partial shade
Soil Type: Well-drained, rich, deep, light soil, pH 6.0 - 6.5
Planting Directions

Temperature: 60 - 70F
Average Germ Time: 7 - 21 days
Light Required: Yes
Depth: Cover seed with topsoil thinly after sowing
Sowing Rate: 3 - 5 seeds per plant
Moisture: Keep soil slightly moist but not wet
Plant Spacing: 18 inches